Dingdong
Don't buy, borrow: "dingdong" – a project by the Mouvement Ecologique.
Excellent understanding and competent counselling
A fast and constructive implementation of our ideas, excellent understanding of the projects particularities and competent counselling with the creation of a web page in a responsive design.
Good knowledge on user behavior which was very helpful.
"
Dingdong
" project team by Mouvement Ecologique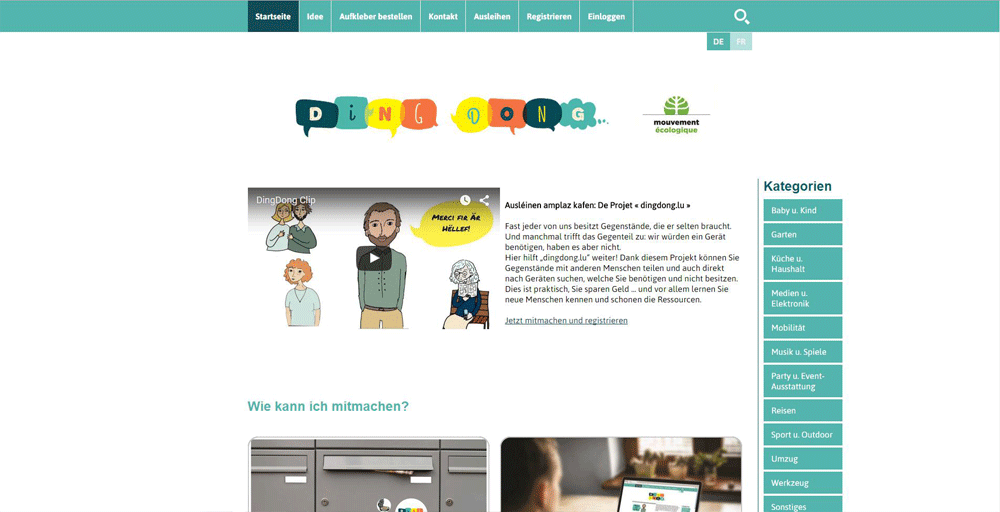 About the project
This project is managed by the Movement Ecologique, a politically neutral organisation with the following objectives: the preservation of nature and its landscape, a mobility with the interests of walkers, cyclists and public transport at the heart of its concerns, renewable energy and widespread climate protection, more democracy and citizen participation, a coherent development of the country, a questioning of the economic growth model and new ways in economic policies. Volunteers staff most of their activities.
Drill, grill or dinghy: most of us have items we only rarely use. Occasionally the exact opposite seems to happen: we need an item we don't have. "dingdong" offers a solution: now you can share your items with others or search for people willing to lend you what you need. This is really practical: not only do you save money, but you also get to meet new people and you are doing something good for the environment too by reducing waste.
The services provided for Dingdong include:
Webdesign
Responsive front-end development
Community/platform development
Personalized Content Management System
Visit the website